Herb Roasted Chicken 🍗.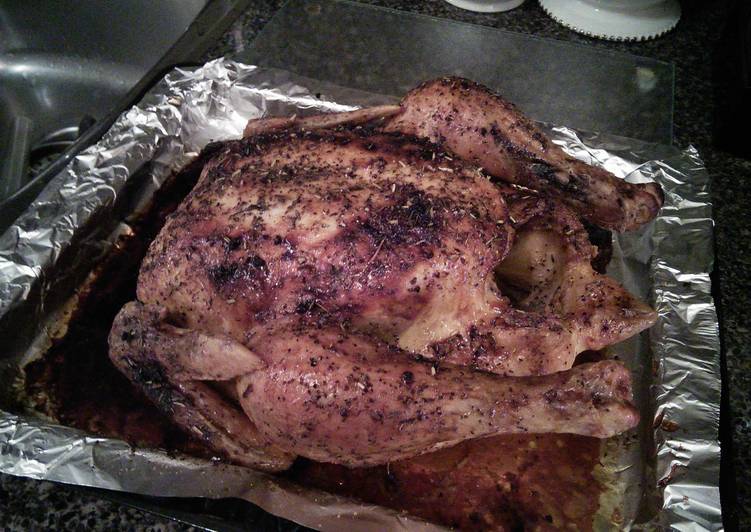 You can have Herb Roasted Chicken 🍗 using 7 ingredients and 13 steps. Here is how you achieve it.
Ingredients of Herb Roasted Chicken 🍗
You need 5 lb of thawed whole roasting chicken.
Prepare 2 tbsp of olive oil.
You need 1 tbsp of minced garlic.
It's 1/2 tsp of ground black pepper (or to taste).
You need 1/2 tsp of salt (or to taste).
You need 1 tbsp of Italian spice mix.
Prepare of .
Herb Roasted Chicken 🍗 instructions
Preheat the oven to 425°F and arrange a rack in the middle..
Rinse chicken inside and out with cold water. If there is an organ packet inside the cavity, please remove it and set aside. Cut off and discard any extra fat hanging around the body cavity..
Place the chicken in the roasting pan breast side down first. (I recommend using a rack if you have one.) Pour 1 tablespoon of olive oil on the back of the chicken. Rub it in with your hand..
Sprinkle with ground black pepper, as much as you like. Do the same with the remaining ingredients..
Turn the chicken over. Use a paper towel to pat dry the breast. Loosen skin from the breast, being careful not to tear the skin. (I use my fingers, but a spoon will do). You could skip loosening the skin if you like..
Pour some more olive oil in a clean spoon and pour the oil under the skin, smoothing it out with your hand on the outside. If you need more oil for underneath the skin, be careful not to contaminate the mouth of the oil bottle by touching it to the spoon you already used..
Pour about 1 teaspoon of oil on the breast, and rub it all over to coat all parts..
Repeat the steps for seasoning the same way you did the back..
If you want to cook the organs, remove them from the packet and rinse them in cold water. Place them inside the cavity. Season cavity with salt, pepper and garlic..
Loosely cover the chicken with foil to prevent browning too fast..
Roast the chicken in the oven for 15 minutes. Reduce the temperature to 375°F and continue roasting until the juices run clear and a thermometer inserted into the inner thigh (but not touching the bone) registers 165°F, about 50 minutes to 1 hour more. If you don't have a thermometer, test doneness by wiggling one of the legs. If it's stiff, it's not done. Return to oven and roast more..
Remove from oven, and quickly baste all over with pan juices. Return to oven for another 15 minutes without the foil cover..
Remove the chicken from the oven and place on a cutting board. Let it rest about 15 to 20 minutes before carving..