Roasted Rice Stuffed Chicken. Add bacon to onions and cook, stirring, until bacon and onions are browned. In a small skillet, saute celery in butter until crisp-tender. In a large bowl, combine the celery, rice, parsley, green onion, basil, sunflower kernels, salt and pepper.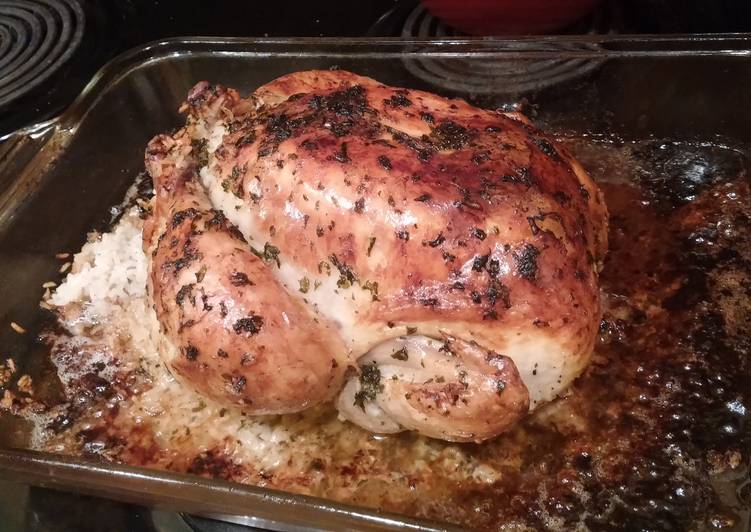 Serve with gravy, mashed potatoes, and green beans. Heat a nonstick saucepan over medium-high heat. In a large saucepan, saute the mushrooms, rice, onion and celery leaves in butter until onion is tender. You can cook Roasted Rice Stuffed Chicken using 9 ingredients and 11 steps. Here is how you cook that.
Ingredients of Roasted Rice Stuffed Chicken
You need 2 cup of Par cooked white rice (might need more depending on the size of your bird).
You need 1 of Fryer chicken.
Prepare of Seasoning salt.
Prepare of Salt and pepper.
It's of Garlic powder.
Prepare of Rosemary.
Prepare 1 cup of White wine.
It's 1 cup of Butter plus extra.
Prepare of Parsley.
Add water and seasonings; bring to a boil. Sprinkle the chicken inside and out with salt and pepper. Butter the outside of both chickens and sprinkle a little pepper on both. Stuff the rice mixture into both chickens.
Roasted Rice Stuffed Chicken step by step
Take your bird out 30-45 minutes before starting to bring it to room temperature. Pat dry if needed before starting..
Preheat oven to 425°F and position a rack in the middle of your oven..
Season par cooked white rice with a bit of butter and all purpose seasoning..
Empty your bird of innards if needed. Season your fryer with salt, pepper, garlic powder and Rosemary. Make sure you season well this includes all areas: wings, under wings, between the thighs and inside the cavity..
Stuff your bird with your rice mixture..
If you would like, truss your bird after stuffing it. Find a YouTube video to explain this that's what I did and it takes practice but it's worth it. This is optional however I have found trussing your bird makes for a very beautiful presentation..
Place your bird in a baking dish, I like to stuff extra rice in after trussing it and placing it in the baking dish..
Melt 1 cup butter with the white wine then add a sprinkle of parsley..
Baste your bird with 1/3 of your wine mixture..
Roast your bird in the oven for 15 minutes, then reduce heat to 375°F. After 15 minutes baste with 1/3 more of your wine mixture. I give it another 30 minutes before a final basting with the remaining wine, continue roasting until juices run clear or when a meat thermometer in the inner thigh reaches 165F, about 50 minutes to an hour more after lowering to 375°F.
Let your bird rest for 15-20 minutes once out of the oven before carving..
Cook rice following directions on package without the salt. Add to cooked rice; add seasonings. Stuff chicken with rice mixture and rub remaining butter on chicken. Spoon any remaining stuffing into small baking dish; cover and refrigerate until ready to bake. Serving up a delicious but easy meal is always a focus in my menu plan.