Brad's open faced sandwich with sausage corn chowder. This hearty soup has been a family favorite since I first acquired the recipe from a popular Wisconsin restaurant. Music and a Meal Presents – Open Faced Veggie and Prawn Sandwich with Garlic Aioli in a Cheddar Corn Chive Chowder. The digital nose in the video.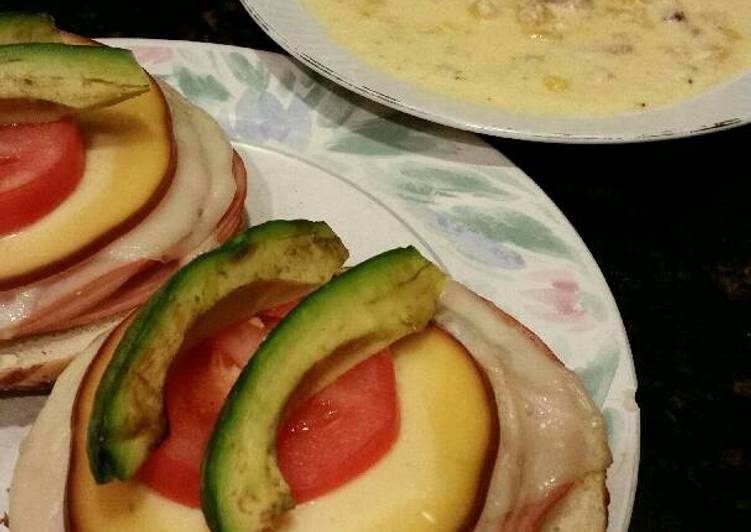 I mean how much easier can those ingredients get? It tastes so fresh and light that it is perfect for a. This easy corn chowder recipe uses frozen whole-kernel corn and gets extra heartiness from low-fat chicken sausage. You can cook Brad's open faced sandwich with sausage corn chowder using 18 ingredients and 5 steps. Here is how you cook that.
Ingredients of Brad's open faced sandwich with sausage corn chowder
You need 2 of jalapeño cheese bagels.
You need of Deli honey ham.
You need of Deli smoked turkey.
It's of Sliced swiss cheese.
It's of Sliced smoked gouda.
It's of Spicy brown mustard.
You need 1 of tomato, sliced.
You need 1 of avacado.
Prepare of For the chowder.
Prepare 2 cans of whole kernel corn.
Prepare 1/2 of hilshire farms kielbasa.
Prepare 2 cups of water.
Prepare 1 1/2 cups of half and half.
It's 1 tsp of granulated chicken bouillon.
Prepare 1/2 tsp of garlic powder.
You need 1/2 tsp of black pepper.
Prepare to taste of Salt.
It's 2 cups of shredded cheddar cheese.
Melt butter in a large saucepan over medium heat. Soup is like the original one-pot meal. You toss everything in, let it simmer and magically, the results are so much more delicious than what you started with. Recipe developer Erin McDowell has a new one to add to your collection: sausage, corn and poblano chowder..
Brad's open faced sandwich with sausage corn chowder instructions
Start with the chowder. Add corn, water, and bouillon to a pot. Bring to a simmer for 10 minutes..
Start the sandwiches. Cut bagels in half. Spread with mustard. Pile on ham and turkey. Add 2 slices swiss and 1 slice gouda. Top with tomato slice and avocado..
Place in a 350 degree oven on a baking sheet. Bake 15 to 20 minutes until cheese is bubbly and a bit browned..
Turn soup pot to low. Add rest of ingredients. Cook to just before a simmer do not let it turn or cream will separate..
Serve immediately. Enjoy.
Easy Corn and Sausage Chowder – warm, comforting, filling and perfect for a cold day! I wasn't going to post about this Corn and Sausage Chowder, but the way my husband ate this up – I knew I had to share!! My husband isn't the biggest potato fan, so I actually was worried that he wouldn't like. Cut up sausage in bite size pieces and brown it along with chopped onion in a skillet over medium heat; Place sausage in a slow cooker; top with hash-browns and carrots. Ham and Corn Chowder is the perfect soup.