Asparagus and Bacon quiche. Lovely asparagus peeks out of every slice of this hearty quiche, which is delicious and a little different. Arrange the bacon and asparagus in the crust. Ideal for breakfast, brunch or lunch, this is the essential classic quiche, tested to perfection.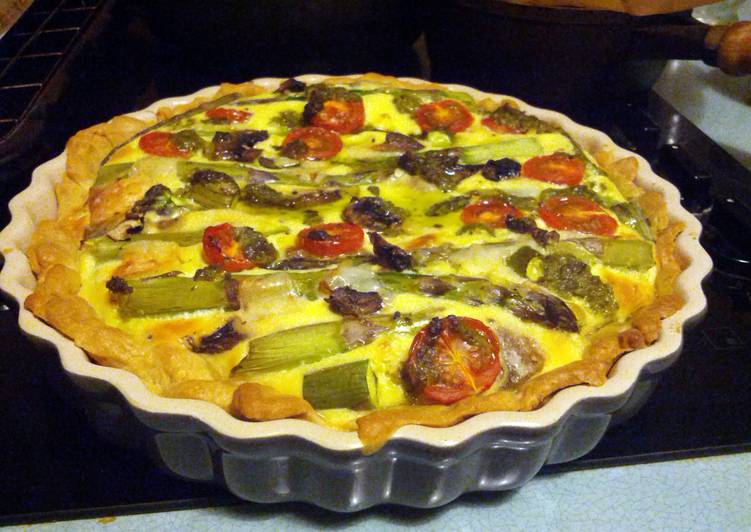 Add salt and pepper, and a spoonful of chopped. Arrange asparagus in a wheel fashion. Mix the remaining ingredients together, pour over the veggies making sure it gets into the cheese. You can cook Asparagus and Bacon quiche using 12 ingredients and 16 steps. Here is how you cook it.
Ingredients of Asparagus and Bacon quiche
Prepare of Base.
You need 1 of shortcrust pastry.
Prepare of Filling.
Prepare 5 of asparagus spears.
Prepare 6 of cherry tomatoes.
You need 275 ml of creme fraiche.
It's 4 of eggs.
Prepare 150 grams of bacon lardons.
Prepare 4 of mushrooms.
You need 30 grams of gruyere.
It's 2 tsp of green pesto.
Prepare 2 of sprigs fresh thyme.
This Asparagus Bacon Quiche is not only delicious but as well as stunning. I think my favorite ingredient in quiche is naturally bacon. Gruyere was the perfect match for the bacon and asparagus combo. I love this salty cheese, that is the perfect kind of cheese for melting in a pasta.
Asparagus and Bacon quiche step by step
preheat oven to 180°c.
grease tin/case.
roll out pastry and press into fluted edges.
prick all over with fork and blind bake for 15 mins until lightly golden.
fry lardons until crisp removing excess fat- set aside to cool.
cut asparagus and tomatoes in half.
chop mushrooms and thinly slice/grate gruyere cheese.
combine eggs and creme fraiche.
remove pastry case from oven.
cover base with lardons and mushrooms.
pour over custard mixture.
arrange asparagus and tomato halves on top.
sprinkle over thyme leaves.
sprinkle over gruyere cheese.
drip over a little pesto.
bake for 35 minutes.
Sprinkle Swiss cheese over bacon and asparagus. Pour egg mixture on top of cheese. I made a few changes based on previous suggestions. I sauted the chopped asparagus in. When it comes to quiche this recipe stands above all the rest!