Peanut Butter Rudolph Cookies.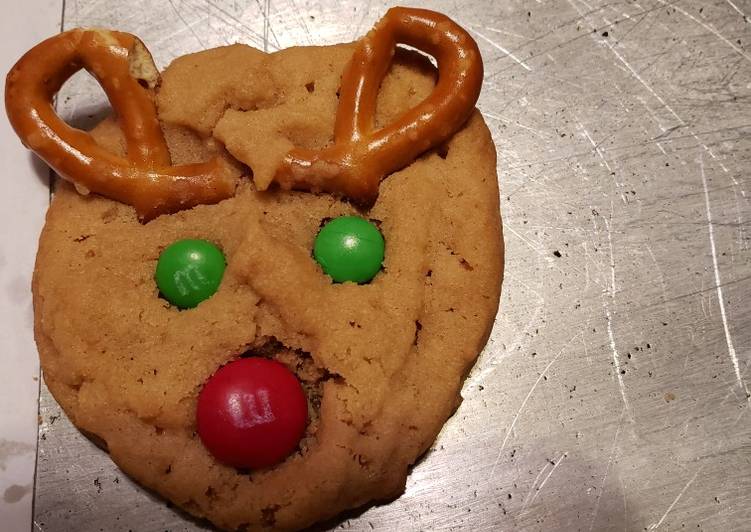 You can cook Peanut Butter Rudolph Cookies using 12 ingredients and 5 steps. Here is how you achieve it.
Ingredients of Peanut Butter Rudolph Cookies
You need 1 Cup of peanut butter.
It's 1 1/4 cup of firmly packed brown sugar.
It's 1/2 cup of shortening or 1 stick of regular Crisco.
It's 3 tablespoons of milk.
You need 1 tablespoon of vanilla.
Prepare 1 of egg.
You need 1 3/4 cup of all purpose flour.
Prepare 3/4 teaspoon of baking soda.
You need 3/4 teaspoon of salt.
You need 1 bag of pretzels.
Prepare 2 of tube containers of Mini brown M&Ms (we used red).
You need 2 of small bags of Regular sized red M&Ms- for Rudolph's nose.
Peanut Butter Rudolph Cookies instructions
Preheat oven to 375° F..
Combine brown sugar, peanut butter, shortening, milk, and vanilla in your mixing bowl. Beat at medium speed until well blended. Add egg; beat "just blended"..
In a separate bowl, combine flour, baking soda, and salt. Add this to creamed mixture at low speed. Mix just until blended together..
Remove from oven and immediately (and gently) press 2 pretzels into the tops of the cookies for reindeer antlers. Press 2 mini brown M&Ms in for the eyes and one red M&M for Rudolph's nose. If you run out of red M&Ms.
Using an ice cream scoop scoop out 1 inch balls of cookie dough and place on a parchment lined baking pan. To make reindeer-shaped cookies, pin the bottom of the cookie dough ball slightly to form a pointy triangle shape, then gently flatten with the palm of your hand. Space cookies about 2 inches apart on your baking sheet and bake for 7 – 8 minutes, until set or just beginning to brown..