Clam Chowder.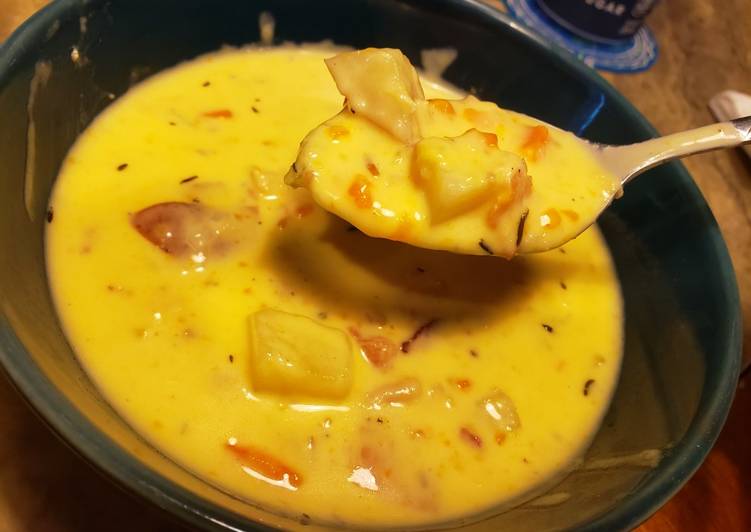 You can have Clam Chowder using 13 ingredients and 8 steps. Here is how you achieve that.
Ingredients of Clam Chowder
Prepare 4 cans of minced clams.
You need 6 strips of bacon.
Prepare 1.5 C of minced onions.
Prepare 1 C of diced celery.
It's 1 C of diced carrots.
You need 3 of medium diced red potatoes.
Prepare 1 of Knorr concentrated chicken stock.
It's 1.5 C of chicken stock.
It's 2 C of heavy cream.
It's 2 of bay leaves.
You need 1 tsp of black pepper.
It's 1 tsp of thyme.
It's 1/3 C of flour.
Clam Chowder instructions
Drain clam juice into a separate container and set both juice and meat aside..
Cut bacon into small pieces and cook over medium heat in a 6 qt dutch oven. Once bacon begins to get slightly crispy, add onion..
Saute onion for 5 minutes or until translucent. Add celery, carrots, and 1 small container of Knorr concentrated chicken stock. Mix well and saute for 5 minutes..
Add flour and saute for another 5 minutes while stirring constantly to avoid clumps..
Stir in liquid chicken stock, clam juice from cans, potatoes, pepper, thyme, and bay leaves. Bring to a boil. Lower heat, cover, and simmer for approximately 20 minutes or until potatoes are tender..
Remove bay leaves and stir in heavy cream. Bring to boil, then lower heat. Simmer on low for 15 minutes..
Stir in minced clam..
Serve and enjoy!.