Chicken Pot Pie Noodles.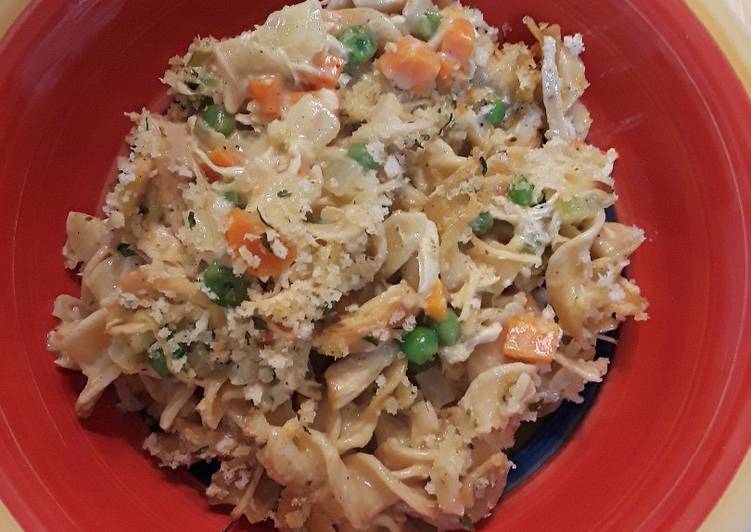 You can have Chicken Pot Pie Noodles using 17 ingredients and 4 steps. Here is how you cook that.
Ingredients of Chicken Pot Pie Noodles
You need 4 tbsp. of unsalted butter, divided.
You need 2 of carrots, peeled and diced.
You need 1 stalk of celery, diced.
Prepare 1/2 of yellow onion, diced.
Prepare 2 cloves of garlic, minced.
Prepare 3 tbsp. of all purpose flour.
Prepare 1 1/2 cup of unsalted chicken broth.
It's 1/2 cup of heavy cream.
It's 1/2 tsp. of each salt, poultry seasoning.
Prepare 1/4 tsp. of pepper.
Prepare 2 cups of cooked, shredded chicken.
It's 3/4 cup of frozen peas.
You need 3 cups of wide, whole wheat egg noodles.
Prepare 1/2 cup of panko breadcrumbs.
Prepare 1/4 cup of freshly grated parmesan cheese.
Prepare 1 tbsp. of dried parsley.
It's 1/8 tsp. of garlic powder.
Chicken Pot Pie Noodles step by step
Start by getting 3 tbsp. of butter melting in a large, deep skillet over medium heat. Once the butter has melted, add the carrots, celery and onion to the skillet with a big pinch of salt. Cook and stir that around often until they've softened up, about 6-8 minutes. Then stir in the garlic and cook another couple of minutes. Sprinkle the flour over the veggies and stir to incorporate it. Cook and stir another 2-3 minutes. Turn up the heat to med-high..
Heat a seperate pot of salted water over high heat and wair for it to come to a boil. Going back to the skillet, slowly add in the broth and cream to the skillet, a bit at a time while stirring until all the liquid has been added. Then stir in the seasonings and let it come up to a simmer. About this time, the water should be starting to boil, so go ahead and stir in the egg noodles to that and cook according to package directions. Drain them in a colander when done and set them aside..
Once the sauce has started to simmer in the skillet, reduce the heat back down to medium and let it gently simmer until it's thickened, about 5 or so minutes. Then stir in the peas and chicken and cook another couple of minutes. Then remove it from the heat, pour in the cooked noodles and stir to combine..
Preheat the oven to 375°F. Grease a 9×9" baking dish and pour the pasta out into it. In a small bowl, melt the remaining tbsp of butter, then stir in the panko, parmesan, parsley and garlic powder. Sprinkle it evenly over the top of the pasta. Bake for 15 or so minutes, or until the top is golden. Then serve it up..